I WANT THIS TRAINING!
Name
Remaining
Available Until
Price
Qty
Option #1: License to Teach Adult and Child Program [+]
$499.00

This is for the complete program, price includes licensing to teach program to both adults and children for one year, 12 DVD's of over 9 hours instruction and a 150 page workbook paced with the DVD instruction.
I CANNOT ATTEND BUT I WANT TO DONATE
EVENT DETAILS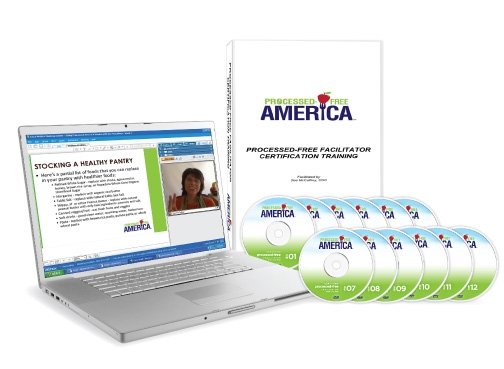 Are you a practitioner who wants your clients to know more about the importance of nutrition?

Would it be easier if you had a plug-and-play presentation to help you change lives about nutrition?

Now there's an easy way for you to teach the processed-free eating philosophy outlined in The Science of Skinny.

Already required reading at Nutrition Institutes and a source book for support groups around the country, The Science of Skinny explains the science behind why foods are perfect in their whole form.

Dee has developed a 9-hour DVD training program to get you up to speed on how to teach the nutrition concepts in The Science of Skinny. As a trained Processed-Free Facilitator, you'll get access to all of the PowerPoints that will help you teach this life-changing program to your community.

People have lowered cholesterol, reversed diabetes, and lost up to 100 pounds by following the guidelines in The Science of Skinny.

If you are ready to be an agent of change, and want to teach The Science of Skinny nutrition concepts to your community...
Then read on for details about becoming a
Certified Processed-FreeTM Facilitator!

Included in your investment is everything you need to offer workshops:
Over 9 Hours of Instruction

DVDs of 9 hours of Facilitator Training with Dee as your instructor

Once you successfully pass the exam, you will receive:

Certificate of Completion
All the powerpoint slides, handouts, teaching materials, charts and recipes for your workshops with children and with adults (two separate and complete programs),
The Processed-Free America logo to use on your business cards,
Private phone session with Dee for last minute questions,
Permission while in active-status to be called a "Certified Processsed-Free

TM

Facilitator" (Processed-Free America owns the tradename "Processed-Free").
Note: As laws vary from state to state, there may be some states where this program is not permitted for licensing. Should this unlikely situation occur in your state, your registration fee will be returned.

In addition to the 150-page manual,
here's what you get in
our Exclusive 12 DVD Set:
Disc 1
Introduction – Why Processed-Free?
The Diet-Disease Connection
The Nutritional Work of Drs. Francis Pottenger, Jr. and Weston Price
The 47 Essential Nutrients
Meet Your Nutrition Heroes, Part 1: Fruits and Vegetables
Disc 2
Meet Your Nutrition Heroes, Part 2: Whole Grains
Refined vs. Unrefined Grains
The Health Value of Sprouted Grains
Meet Your Nutrition Heroes, Part 3: Legumes
Understanding Resistant Starch
Meet Your Nutrition Heroes, Part 4: Nuts and Seeds
Disc 3
Fats and Oils – The Good, The Bad and The Ugly
Understanding Saturated Fats
Understanding Monounsaturated Fats
Understanding Polyunsaturated Fats – Omega-3 and Omega-6
Understanding Free Radicals and Trans Fat
How Oils Are Refined
The Best Oils to Use for Cooking
Disc 4
Lean, Healthy Proteins
Understanding Amino Acids
Complete and Incomplete Protein Foods
Complementary Proteins for Vegetarian Meals
How Much Protein Do We Need?
The Truth About Soy
Optimal Proteins: Raw Milk, Organic Milk, Grass-Fed Meat, Wild-Caught Fish
Disc 5
Interpreting Ingredient Lists
Generally Recognized as Safe? - The Most Common Food Additives and Ingredients to Avoid
The Importance of Organic Foods
The Dirty Dozen and the Clean 15
Understanding Genetically Modified Foods (GMO's)
Disc 6
Sweets and Carbs
Simple vs. Complex Carbodyrates
The Beauty of Whole Natural Sugarcane
The Health Effects of Refined White Sugar
Healthy Natural Sweetners
All About Gluten
Disc 7
Healthy Alternative Ingredients
Replacing White Flour with Whole Grain Flours
Replacing White Sugar with Natural Sweeteners
Replacing Bad Oils with Good Oils
Non-Dairy Options
More Healthy Alternatives – Coconut Products, Raw Honey, etc.
Disc 8
Vitamins and Minerals: Why Do We Need Them, How Do We Get Them?
The Fat-Soluble Vitamins: A,D,E & K
The Water-Soluble Vitamins: B's and C
RDA vs. ODA
Whole Food Vitamins vs. Synthetic Vitamins
Essential Trace Minerals
Disc 9
Phytonutrients and Antioxidants
Eat the Rainbow - Colors Associated with Phytonutrients in Foods
Acid-Alkaline Balance – the pH Scale
Optimal Body Chemistry for Optimal Health
Acid and Alkaline Forming Foods
Health Effects of Too Much Acidity
Disc 10
The Importance of Adequate Water Intake
What Counts for Water?
Foods with High Water Content
The Optimal Balanced Plate – Proper Portions and Balance of Food Groups
Disc 11
The 4-Session Healthy Kids Nutrition Class
Bringing to Their Level, Making it Fun
Curriculum and Agenda
The "No-Yuck" Rule
Session 1 Key Concepts:

Whole Grains
Reading Ingredient Lists
Making a Fresh Fruit Tart

Session 2 Key Concepts:

Vitamins and Colors of Fruits and Vegetables
Food-Art Project
Disc 12
Session 3 Key Concepts:

Food Hygiene and Hand Washing
Stove Safety
Knife Safety, Cutting Fruits and Vegetables
Salad Making Project

Session 4 Key Concepts:

Good Fats vs. Bad Fats
No-Bake Cookie Making

Putting It All Together, Final Notes

To Sign up now for this life-changing program, select "Checkout" above!